Profile
PERSONAL DETAILS
Mr Aihara ,MASAAKI
Born in Tokyo, 1958
Education: Bachelor of Journalism, Department of Journalism (Newspaper/Printed Media), Faculty of Law, Nihon University, Tokyo, Japan
Registered with ASAHI PENTAX as a professional photographer
Member of NIKON professional services
Ever since my first landing to this continent country, Australia in 1988, I became very attracted or almost obsessed to this continent.
I decided to end my life as a Salary-man (a company employee) in Tokyo and became a freelance professional photographer. I selected Australia to take my first step as a professional photographer. My decision to travel Australia at the time was based on a very simple reason. I simply thought that as Australia is the oldest continent on the earth I could see landscapes, sceneries, wildlife that I have never encountered with in any other part of the world. I spent three months travelling approximately for 18,000 kilometres by my motorcycle. It was camping trip mainly travelling Australian Outback. I slept under the stars every night, lived with the Sun, and travelled with the winds. I felt the toughness and harshness of nature under the extreme heat of Outback. I also felt depth of friendships from my Australian friends. We sang and laughed together. It was great.
The sceneries, the sunrise, the clouds, the sunset, the moon, the stars … All things I saw everyday were beyond imagination. I felt that it was all created for me. There were so many things that I could not experienced in Japan and so different from what I am familiar with, I became obsessed with the dynamics of Australia by the time I had to leave. I also became aware of my mission as I felt strongly about the earth as living thing and diversity of its environment and history are beyond our comprehension. I believe my mission is to document various form of expressions of the earth. I want to photograph not simply landscapes but also to capture the spirits of the earth with honor.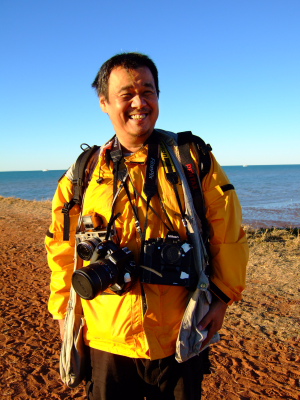 Since that time, I have been photographing Australia for 20 years. I have a ritual that is to communicate with the nature by bush camping. This has been keeping my body and soul in great form. I need to be accepted by the nature and be humble and honored to be given the opportunities. It seems that rocks, trees, waters, and desert are telling me to photograph them and I am merely taking the shots. I am a storyteller that existed in ancient Japan. I feel that I became a medium to pass the images of the earth on to the future generations.
I have been photographing Tasmania extensively since 1998. On my first visit to Tasmania, I felt stronger sense of depth and richness of spirits of the island than the mainland Australia. It almost made me feel like all living things on the earth were created in the island. Even after returning to Tokyo, the essence of eucalyptus forests that my body absorbed sunk even deeper in my body. I felt like I was becoming a part of the forests and returning to my origin. I feel that the more time I spent in the island, the more I see spirits in all things such as trees, rocks, moss. I feel that each small spirit is forming the spirit of the island of Tasmania. I hope my photographs will give an opportunity to feel spirits of Tasmania, Australia and our mother earth and I strongly hope we could pass this beautiful planet to the children of our future.
EXHIBITION
International
Oct 2004 - Apr 2005

Talking to Spirit of The Land大地の精霊との対話
Wilderness Gallery ,Cradle Mt, Tasmania , Australia

Feb 2006

Talking to The Spirit of The Land
Baltimore USA

Sep 2006

Great Australia at FUJI FILM SP Gallery Photokina
Köln Germany * Photokina is world biggest photography & imaging convention

Sep 2007 - Oct 2008

風林光山 The Wilderness Gallery
Tasmania Australia

Sep 2008

Great Australia at FUJI FILM SP Gallery Photokina
Köln Germany * Photokina is world biggest photography & Imaging convention

Feb 2009

Talking to The Spirit of The Land
Young Poong Book Store,
Seoul South Korea

Jul 2010 - Aug 2010

Double Portrait
Lotte Department HQ Seoul South Korea

Sep 2010

Landscape at FUJI FILM SP Gallery Photokina
Köln Germany * Photokina is world biggest photography & Imaging convention

Dec 2010 - Nov 2011

木霊 Kodama Spirit of Tree
The Wilderness Gallery
Tasmania Australia

Jan 25th 2013

Spirit of Australia and Tasmania
Produce by Australian Embassy Seoul
Australia Day special photo exhibition
Grand Hyatt Seoul
Domestic
Nov 1995

The Light From Down Under The Embassy of Australia Mita, Tokyo

Apr 1996

Landscapes of Australia
Keio Plaza Hotel , Shinjuku,Tokyo

Jun 1997

The Heart of Desert
Honda Welcome Plaza, Aoyama, Tokyo

Apr 1998

The Heart of Desert
Pentax Forum , Shinjuku, Tokyo
Recorded approximately 13,000 visitors

May 1998

Great Outback
The Embassy of Australia , Mita, Tokyo

Jun 1998

Great Outback
Honda Welcome Plaza , Aoyama, Tokyo

May 2000

地球日和 Chikyu Biyori
Fuji Photo Salon , Ginza, Tokyo
Honda Welcome Plaza , Aoyama, Tokyo

Aug 2000

Kimberly
Pentax Forum , Shinjuku, Tokyo

Sep 2000

地球日和 Chikyu Biyori
The Embassy of Australia , Mita, Tokyo

Nov 2000

QANTAS Airways
80th Anniversary Private Exhibition
Shibuya, Tokyo

Mar - Sep 2003

精霊の島 Spirit of The island
FUJI PHTO SALON
Tokyo, Nagoya, Oosaka, Sapporo

May 2005

Mother Earth
PENTAX FORUM ,Shinjuku,Tokyo

Sep 2006 - Feb 2007

Great Australia FUJI FILM Photo Salon
Tokyo Nagoya Oosaka Fukuoka Sapporo

Apr 2008

PENTAX – K20D Presentation
PENTAX Forum . Shinjuku, Tokyo

Jan 2009

Double Portrait , Fuji Film Salon Sendai

Nov 2009 - Feb 2010

Spirit
FUJI FILM Photo Salon
Tokyo, Nagoya, Oosaka ,Fukuoka Sendai Sapporo

Oct 2013 - Feb 2014

しずくの国 日本 "Spirit of Nippon"
FUJI FILM Photo Salon
Tokyo Fukuoka Oosaka Nagoya Sendai Sapporo
Public Collection
Denmark Royal Palace
Australian Embassy Tokyo
Australian Embassy Seoul
FUJIFILM Europe
The Wilderness Gallery Tasmania Australia
Eslingthon Hotel Hobart Tasmania Australia
FUJIFUILM Head Office
Nikon Head Office